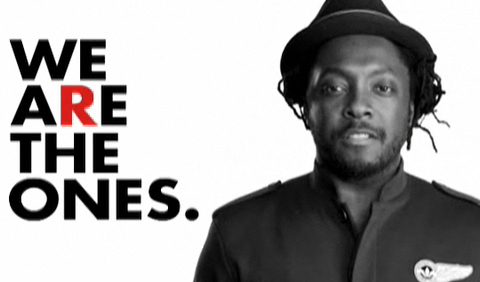 will.i.am of the Black Eyed Peas has put together another star studded celebrity ensemble to create a second song for Democrat presidential candidate Barack Obama. "We Are the Ones" is the follow-up music video to "Yes We Can". In both videos will.i.am was able to convey the self empowerment and hope feelings that the Illinois senator has based his campaign on by gathering celebrities to express their support for Barack Obama.
"Yes We Can" was based on the now famous New Hampshire concession speech Obama delivered after losing the primary in that state to Hillary Clinton. It used the words of his speech as he delivered them and those same words sang by the likes of John Legend, Scarlett Johansson, Common, and recent Grammy winner Herbie Hancock.
In "We are the Ones" the core of the song is taken from the Obama line "we are the ones we've been waiting on" which basically implies that we can make the difference in controlling our fate in this country. will.i.am wrote in his blog about the effect of that line and Obama's words in general have effected him and America. His blog is inspiring as well which shows the profound effect Obama has had on people in this country. HopeActChange.com is a collection of people expressing themselves similar to will.i.am in videos, words, and images.  The Grammy winning Obama has effected those throughout the world as well as in the United States. In Kenya residents have unofficially renamed a beer in his name.
This particular cast of 30+ includes:
jessica alba, ryan phillippe, george lopez, adrianne palicki, regina king, zoe kravitz, freddie rodriguez, john leguizamo, luis guzman, jay hernandez, kerry washington, ryan key, macy gray, omar benson miller, malcolm jamal warner, taboo, eric mabius, tichina arnold, nate parker, kate del castillo, tyrese, jesse plemons, ben mckenzie, leonor varela, n'dambi, cucu diamantes, andres levin, noah segan, troy garity, simone bent, susanna hoffs, jackson roach, anna david, javier castillo, adriana castillo, and will.i.am
"O-Ba-Ma, O-Ba-Ma" 
[youtube width="425" height="355"]http://www.youtube.com/watch?v=ghSJsEVf0pU[/youtube]