Bush finds out about $4 gas forecasts
President Bush, saying he was unaware of predictions of $4-a-gallon gasoline in the coming months, told reporters Thursday that the best way to help Americans fend off high prices is for Congress to make his first-term tax cuts permanent.

Bush also criticized Congress, which is considering an $18 billion tax increase for large oil companies.

'All that's going to do is make the price even higher,' he said. 'We ought to be encouraging investment in oil and gas close to home if we're trying to mitigate the problems we face.'
Georgie, are you fucking serious? This is totally ridiculous.
1. You weren't aware of the outlook on the price of gas? Have you been stranded? Is that why you don't have a clue?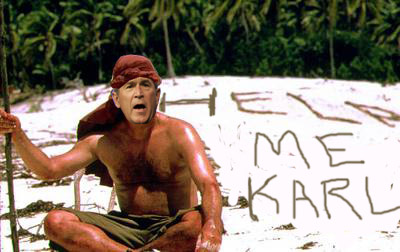 2. The best way to deal with these prices is a tax cut? Why don't you push alternate sources of energy? Why not say that we should cut demand?
Because you're still an oil man.
Just say that we should consume less gas, goddamnit. If demand goes down, so will the price. It's really easy.
-MC Spanky McGee