Somehow indicating that she has a pulse on how the gaffes of her own campaign will be interpreted by voters, Hillary Clinton says the controversy and resignation of Mark Penn won't hurt her campaign. This is so amusing. When I was about 8 years old, we would play a game in my neighborhood that we just called "Guns." We all had toy guns (I actually had an M-16 that was one of the "it" weapons in the hood). It was basically hide and seek, but to "catch" somebody you had to "shoot" them from relatively point blank range before they "shot" you. The game ALWAYS devolved into an argument when one player would ambush another from the bushes with a subsequent dispute over whether the shot was successful.
Kid 1: "Blat…blllllllat! I shot you." (noises were obligatory)
Kid 2: "No you didn't." (running away)
Argument ensued. I'm sure you get it. Hillary is now playing the role of Kid 2. "You didn't hit me…see?"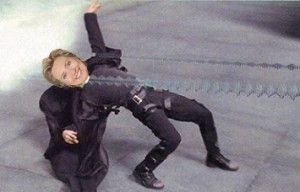 I don't usually care about what the comments to a particular article say, but it looks like everyone on CNN.com is tired of Hill's spin cycle. EVERY SINGLE comment says something to her credibility. With her dwindling lead in the Pennsylvania polls, it looks like her act is played…sooooooo played.
I won't call for it now, but pretty soon it will be time for Hill to:
[youtube width="425" height="355"]http://www.youtube.com/watch?v=45LzDRmHrmg[/youtube]
It may be Pennsylvania (April 22). It may be North Carolina (May 6). IT MAY BE GUAM (May 3)…but it's coming.