Check out the aftermath in the news here.
[youtube width="499" height="417"]http://www.youtube.com/watch?v=60XZIuUjHO4[/youtube]
"I'll smack you upside your head."
"I'm not 'man,' I'm not 'dude…' You go around doin' this stuff, and someone is gonna kill you."
"Stop calling me 'dude.' A dude is someone who works on a ranch."
My dear readers, I gotta tell ya, I'm getting old. And I'm just smart enough to know that we need law and order.
So I look at these kids, and I think, "Shut your piehole, bro. You're asking for it." Maybe I even break out my shivering grandpa-fist and wheeze out, "You damn kids…." I also know that cops have tough jobs, and they're under a lot of stress. I generally have a lot of respect for them.
But, Salvatore Rivieri, you are a dildonic, douchebaggish, assholish, motherfucker. How are you going to make veiled death threats against a classic, skateboarding, 14-year old punk kid?
Rivieri, you sound 'roided out. "A dude is someone who works on a ranch"? Come on, bro. You know damn well that the expression is looser than that. You had to have rocked out in the 80s. That you are so concerned with your title shows that you are obsessed with your power status. I don't think that this is an isolated incident. I think you need an ego check. Maybe you should get a buddy and play Grown Pumpkin and me in team doubles on Halo 3.
For real 'doh, I'd say that this is definitely not a case of the police winning hearts and minds.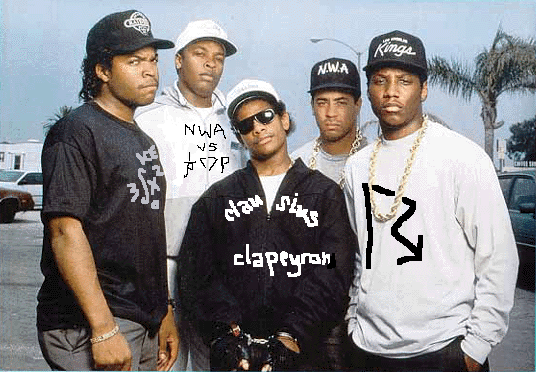 MC Spanky McGee says, "Fuck da abusive police…." Please note the qualifier….
Update: 2 /13/2008 11:24 AM
On the Youtube page, absolutetruth2 replies to the video:
What a dumbass kid!! I wish the cop would have just shot him dead on the spot and saved the community from decades of having to pay welfare for his stupid ass. So much for the next great generation of Americans."
This is a fine example of some wannabe fiscal conservative who hides his ultimate desire to kill indiscriminately behind his prediction of how this particular kid will turn out. Well, I got news for you, absolutetruth2, your statement shows how stupid you are. Don't act like you were some kid that was a little angel when you were 14. In the words of Ricky from Trailer Park Boys, "Fuck off." Asshole.
---
MC Spanky McGee still has some rebellion left in him. Sometimes he just doesn't give a shit.