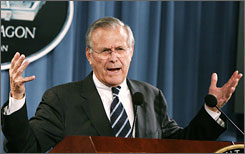 Rummy asks a journalist: "Why are you so hostile, bro?"
_
Rummy is tired of you asking when we're leaving Iraq. "You ought to just back off, take a look at it, relax, understand that it's complicated, it's difficult," Rumsfeld said regarding deadlines. "Honorable people are working on these things together. There isn't any daylight between them."
Rummy says unto thee, "Take a chill pill. Kick back."
Rummy provided Soupy Trumpet with his top ten suggestions for chilling out on Iraq:
-
10. Enjoy some pizza rolls. The whole bag. Follow up with choco ice cream.
9. Go over to Grown Pumpkin's and play some Madden. Run the quarterback sneak against his Falcons until he throws the controller against the wall.
8. Put on Dark Side of the Moon and just "zone out."
7. Play Hungry Hungry Hippos with W in the oval office for all the green Skittles.
6. Have "guys' night out" with Wolfowitz and Ashcroft. Go karaoke and sing only Spice Girls tunes. Pick up hot babes.
5. Buy some gas.
4. Play naked Marco Polo with Cheney in the White House pool.
3. How Stella Got Her Groove Back.

2. Read Rove's master plan.
1. Think about how the Democrats still have over a week to mess things up.