http://www.cnn.com/2008/US/01/29/fema.trailers.ap/index.html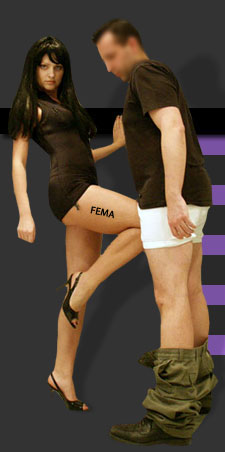 photo from http://www.velvetkick.net/
Thanks, FEMA.
Apparently FEMA thought they had been too passive during Katrina, so they thought they would become active and provide carcinogenic formaldehyde-laced trailers to these people. What's FEMA's next trick, to pin the victims to a giant tray and let some high schoolers slice and dice em'?

The kicker, of fucking course, is that they lied about about the risks of the formaldehyde.
The Federal Emergency Management Agency manipulated scientific research to play down the danger posed by formaldehyde in trailers issued to hurricane victims, according to an investigation by congressional Democrats."
Yes, the nightmare of Katrina continues, unfortunately. Arrrghhhh.
-Spanks