Well, this post started out as dealing with Subway only, but then I lost control.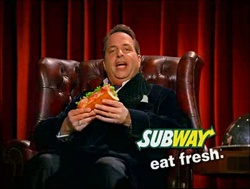 I hate pretty much all of Subway's commercials. I'm sick of that lameass Jared (did he have his stomach stapled? I don't know), but I'm especially sick of Jon Lovitz and his spritely commentary on their little skits.
_
Burger King, on the hand, creeped me out at first with the King, but after they put him on the football field I became a fan. Hence I applaud BK.
Back to Lovitz. This shit is pushing me away from Subway. They're so smug, and the fact that their parent company is named "Doctor's Associates" or whatever doesn't work on me. Yeah, you're pushing for the whole healthy-image thing–I got that. Do you really think that works on me–your stupid company's name? By making it seem as if my doctor gives it the thumbs up?
I like the Italian BMT and the meatball sub. I really do. But to beat a dead horse, I share Grown Pumpkin's sentiment, expressed here. But Lovitz makes me want to call Wayne Brady. Really.
Maybe I'm cranky because I'm hungry. God, I'd go to the Chinese place, China Star, in the Old Capitol Mall in Iowa City to grab some of their badass General Tso's, but they don't take credit or debit cards. We need to have a little chat, they and I. Their food is rockin' and they're packed at lunch, but they need to step it up. It's 1999, BRO. Get on board. Now I go there anyway, but I'd go there more if I could be a good American and use this credit card. I don't care if they don't speak English. But don't tell me that I can't rack up credit card debt. That's the real threat to the American way.
-Hattori "Spanko" Hanzo