Clinton repeats calls to seat Florida and Michigan
"I'm going to let the leadership of both states see what they think is the best approach," Clinton told reporters in Washington. "I think that it would be a grave disservice to the voters of Florida and Michigan to adopt any process that would disenfranchise anyone and I'm still committed to seating their delegations and I know that they're working with the Democratic party to determine how best to proceed."
I've been hearing this d-word for the last 3 days. All these people are crying for the voters of Michigan and Florida.
Crist, who is a Republican, says he wants the votes that were already cast to be counted because the 'people should be heard and not party bosses in Washington.' He and Michigan Gov. Jennifer Granholm, a Democrat, on Wednesday called on the Democratic National Committee to seat their states' delegates. They accused the party of silencing "the voices of 5,163,271 Americans" who voted in their primaries.
But I've got news for you. Sorry, Michigan and Florida, you are not disenfranchised by anyone but yourselves.
The voters of these states have already been heard. They were heard when they elected the clowns that tried to push their primaries before the agreed due dates. In a so-called representative democracy, the basic idea is that the representatives are the right hand of the people. In this case, the right hand of the people in Michigan and Florida choked them–kinda like Ash gets choked by his own hand in Evil Dead: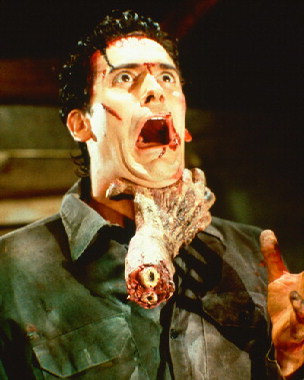 Howard Dean is exactly right:
But DNC Chairman Howard Dean points out — Florida and Michigan both knew the rules and agreed to them.

"The rules were set a year and a half ago. Florida and Michigan voted for them and then decided that they didn't need to abide by the rules. When you're in a contest you do need to abide by the rules," he said on "American Morning."
Don't cry to me. I don't give a shit. Your elected officials messed up, and now you're acting the national DNC is screwing you over?
Wrong.
You–the voters of these states–you screwed yourselves.
Hillary is merely pandering to this misguided sentiment that someone is stealing their votes….
-MC Spanky McGee