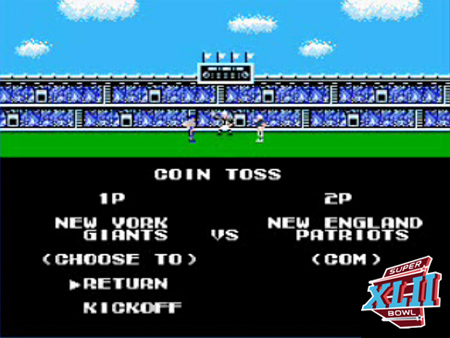 Tomorrow, February 3, 2008, is the annual NFL championship game also known as the Super Bowl XLII held in Arizona at the $455 million dollar ridiculously awesome University of Phoenix Stadium that features a retractable roof and roll-out grass field.
The game features MVP Tom Brady and the still undefeated New England Patriots including Randy Moss, Wes Welker, Asante Samuel, and more.  Their opponents are the New York Giants, lead by Peyton Manning's little brother Eli Manning and an assortment of strong players that includes future Hall of Famer Michael Strahan, Brandon Jacobs, and Plaxico Burress that has run his mouth all week leading up to the big game (and is now questionable for the game).
In celebration of this event tomorrow, the boys at ArmChairGM.com set up the old school Tecmo Bowl and simulated the game.  The videos are available from Joystiq via YouTube and the game summary is at the armchairgm.com site.  Check it out and get your bets in while you still have time.