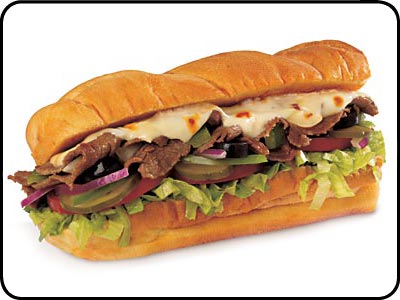 A couple years back Subway broke my heart by removing the Steak and Cheese from their menu.  Since then they have been trying various versions of replacement sandwiches and finally they may have hit a homerun for me.
Going back as far as I can remember, the meat of the sandwich was tossed in with diced green peppers and onions, kept in a hot well with au jus, and tonged onto the sandwich.  The onions and peppers were a slight problem for me but I worked around them.  Then came the days of pre-portioned microwave meat.  This was still fine (although less meat than usual) because it was the same sandwich we had all come to love.  Then one day it went away and re-emerged as some chopped up meat with bigger onions and peppers and in my opinion tasted like nothing I wanted to eat again.
Last night I went to grab a late night $5 Subway footlong and saw a sign for the "Subway Big Philly Cheesesteak".  I looked at the meat and it looked like the old school sandwich I had loved.  The girl told me it was not eligible for the $5 deal because it includes double meat and double cheese already.  The 6 inch sandwich was $4.99 and the footlong was $8.79.  I decided to go with the little fella with American cheese and a ton of pepper.  It was no philly cheesesteak, but it was close to the sandwich I used to love.  Admittedly I kind of miss the onion and pepper flavoring that I used to hate.
I am going back right now to reconfirm that this was not a dream.  Thank you Subway suits gods.  I knew you would come back to me.