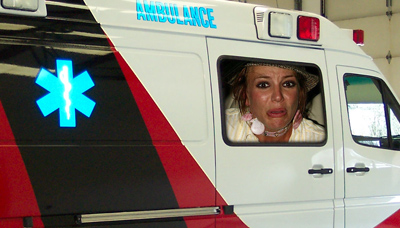 I hate to pile on people unless they are bona fide haters. Britney Spears has been in a free fall for sometime and the media has been throwing down on her every step of the way (and rightfully so to an extent). However today, January 31, 2008, Britney Spears has taken another ride in an ambulance from her home via armored motorcade to the UCLA Medical Center hospital to "get help".
This is good news because ultimately it could save her life, provide more entertainment, and most of all get those kids away from the ex-backup dancer-current Chauncie-K-Fed aka Kevin Federline from Oregon that beat Great Puma in Pro Wrestling on NES. Britney's mother, Lynn Spears, says she is doing alright and the hospital is keeping her in a "mental evaluation hold" so we may not see Britney in the news for awhile… then again we may see her pull a Michael Scofield and break out of that bitch and hop right back on the crazy train. By the way, her not so new album is pretty hot.
You can get the full story at omg minus the jank photshop.