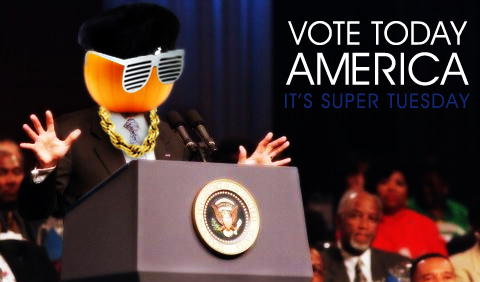 *simulated image
We at The Trump would like to pass a friendly reminder to those in the various states holding their 2008 presidential primary elections today. We will not tell you who to vote for by sending you to this article and will leave you to choose for yourself whether you are a Democrat or Republican or neither.
This election gives you many to choose from, none of which are named George Bush or Dick Chaney. You won't get the man that won lost years ago and now makes power point presentations for money, Al Gore. You won't get John Kerry, Jonathan Edwards, Jesse Jackson, Al Sharpton, or Ross Perot this time around. The mayor Rudi Giuliani and the Governor Bill Richardson are no longer there either. Even Stephen Colbert is out of the race too. Former President Bill Clinton can only become the first husband as he has already served two terms. What's left is Hillary Clinton and Barack Obama for the Democrats and John McCain, Mike Huckabee, and Mitt Romney for the Republicans…oh and Ron Paul too.
If you cannot decide you can always take the advice of Montgomery Brewster and "Vote None of the Above" or just write in Grown Pumpkin and hope for the best.