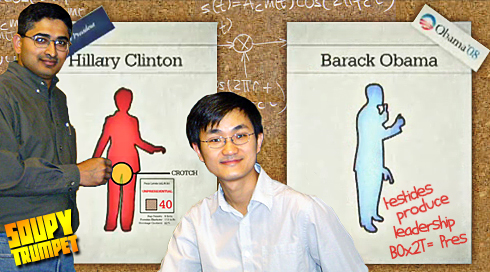 With all the crazy talk racism by Geraldine Ferraro of Barack Obama's success coming from him being black and then defending her claim rather than taking it back, we took it upon ourselves to investigate by clicking on one link the element of gender to fire back at Hillary Clinton and her crew.
It did not take long to prove that Hillary Clinton is not the "right man for the job", or even a man at all. There has been a commonality of ALL, not some, but all presidents before. That commonality is they have all had a penis. It has also been shown that testicles produce leadership. Eyewitnesses have gone on record saying that the Illinois Senator is more than qualified. This of course by simple logic eliminates Hillary Clinton (Clintones Ringtones or not)from even really being seriously considered.
So since Ferraro refuses to back off her zany statement, we simply wanted to Trump her and back it up with fact. We have a video from FunnyOrDie.com that corroborates builds our entire basis for our claim that Hillary Clinton is not equipped for the job and Barack Obama is the Total Package. It has to be factual because it was on the internet and included charts which in turn builds a case that Johnny Cochran could not even break down, glove or not. The photoshop job should also serve as exhibit B. if you still need more proof beyond the self-explanatory video.
Geraldine Ferraro had it half way right; Barack Obama IS lucky, not for just being black like she suggests, but lucky instead for being a black MAN.
[kml_flashembed movie="http://www2.funnyordie.com/public/flash/fodplayer.swf?1203120643" height="388" width="464" allowfullscreen="true" quality="high" classid="clsid:d27cdb6e-ae6d-11cf-96b8-444553540000" fvars="key = 1a4546c7bb" /]
---
*because we do not hate Hillary Clinton, do not find her unqualified because of her gender, and do not support any REAL thoughts that endorse either of those ideas, we felt it was important to point out we are 100% kidding with this post