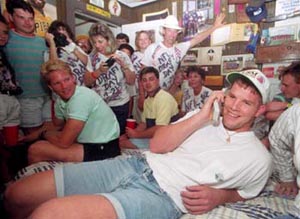 Green Bay Packer quarterback Brett Favre is set to retire from the NFL. This time it appears to be for real for now as the future hall of fame quarterback passes the reigns to Aaron Rodgers. Brett Favre has somewhat held the Packers hostage over the last few off-seasons with his indecisiveness as to whether to continue playing or not. Rodgers was drafted as a result of this and subsequently signaled the beginning of the end for "old chuck and pray".
This past season Favre played like the classic Brett Favre and many felt that there would be at least one more season since he was playing football at an MVP level. Favre made the Pack relevant again this year so the announcement comes as a surprise to many, including some teammates that read the announcement on television. He cited being "mentally tired" as his motive for retirement in a voicemail message to ESPN's John Clayton (how did Clayton miss one of the BIGGEST calls of his or anyone's sports journalistic career?).
The story should be that simple and Cheeseheads should take it as it was time for him to go. They should be happy that he didn't carry this decision into the draft or too deep into the free agency period. After all, this has been a Super Bowl bearing marriage and all good things come to an end. Bus Cook, Favre's agent, and other league officials are not so sure. Cook says to an extent that Favre feels the Packers did not want him back. There are rumblings that maybe he could be talked into coming back to the Packers or that he may be interested in joining Bill Parcells down in Miami with the Dolphins. Cook said he that Favre wanted to play at least another year.
I for one would take Brett Favre back to the Atlanta Falcons to keep Michael Vick's seat warm for the year… as long as he vowed to stay clear of the painkillers and if he promised to bring those jean shorts he was wearing when we drafted him back in the day. Randy Moss is back with the Patriots, so we can't meet that demand. We do however have underground player parking at the Georgia Dome for his truck, so Brett can go to and from the games without talking to a single fan just like in Green Bay. Atlanta is a good fit for him… come on down Brett.
The Packers have set up a breaking news site to follow this news story as it unfolds, or you can just chuckle at an image somebody photoshopped of John Madden and Brett Favre together in a wedding.