Clinton's primary campaign begins April in debt
According to campaign reports filed with the Federal Election Commission over the weekend, the New York senator began the month of April with close to $32 million cash-on hand. But, according to the Associated Press, only $9 million of that total are funds that are able to be spent in the primary races. The report also showed Clinton owes more than $10 million, meaning the Democratic presidential candidate was in the red even before she heavily stepped up television advertising in Pennsylvania. "
Look, ordinarily I'd call Hillary a good American because of such a debt load, but clearly something has gone wrong.
We are big fans of the idea that you measure how awesome someone is by their cash on hand. And Hillary is just not getting it done.
Well, after the sniper fire LIE, I think a lot of people have had enough.
Why is she still going? I don't get it.
I think she's gonna need a few more shots after she comes to her senses and realizes what a shitty campaign she has run.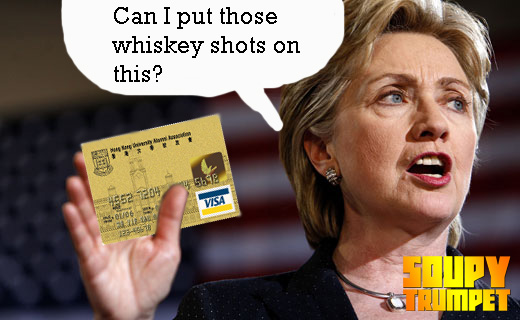 -MC Spanky McGee