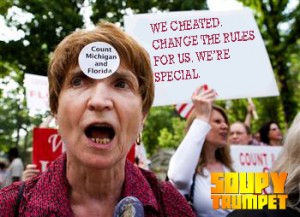 (Original pic here.)
Florida, Michigan Dems make their cases
Members of a Democratic rules committee voted on Saturday to seat all of Florida's and Michigan's delegation to the party's national convention and give their delegates a half vote each. "
Half a vote is half a vote too much.
I'll say it again and again. I don't care: those states got their voices heard when they voted to elect the turkeys that decided to try to cheat and to move up their voting.
They weren't disenfranchised. We heard them cheating.
"Winners don't cheat and cheaters don't win." -Sydney Fartknocker
-MC Spanky McGee