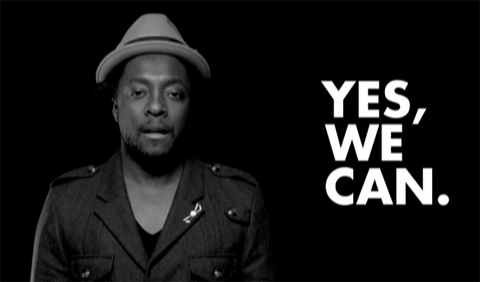 [youtube width="425" height="355"]http://www.youtube.com/watch?v=jjXyqcx-mYY[/youtube]
Democratic Illinois Senator Barack Obama delivered a speech in New Hampshire at the site of the presidential primary on January 8, 2008 that inspired will.i.am of the rap group Black Eyed Peas to create a song called "Yes We Can". In a matter of 2 days will.i.am was able to gather up around forty celebrities to help him record the song and shoot the video. It is making rounds on the internet just in time for "Super Tuesday" tomorrow.
Among those that helped will.i.am were Jesse Dylan, Common, Scarlett Johansson, Herbie Hancock, Tatyana Ali, Nick Cannon, Kareem Abdul-Jabbar, John Legend, Kate Walsh, Aisha Tyler, Amber Valletta, Taryn Manning, Nicole Scherzinger, Adam Rodriguez, Alfonso Ribeiro, Austin Nichols, Ed Kowalczyk, Eric Balfour, Esthero, Harold Perrineau, Johnathon Schaech, Kelly Hu, Maya Rubin, and Tracee Ellis Ross.
The New Hampshire concession speech to Hillary Clinton has been getting major press and has been thrown about as the modern brother to the famous "I have a dream" speech by Martin Luther King Jr. In his blog, will.i.am made comparisons of Obama to King, Abraham Lincoln, and John F. Kennedy. Many people share the same sentiments and are pulling for the man running a campaign called "Change" simply on the hope that he offers and not on his politics.
But in the unlikely story that is America, there has never been anything false about hope. For when we have faced down impossible odds; when we've been told that we're not ready, or that we shouldn't try, or that we can't, generations of Americans have responded with a simple creed that sums up the spirit of a people.

Yes we can.
The video for "Yes We Can" has been seen already by more than 11 million viewers via YouTube.com and at the official site for the song YesWeCanSong.com.
Additional Reading at MTV.com: http://www.mtv.com/news/articles/1580884/20080204/will_i_am.jhtml