(Post updated 2/14/2008)
Heh. I commented on Titan's oil back in November of 2006 (that post is below), and now the news is saying:
Saturn's orange moon Titan has hundreds of times more liquid hydrocarbons than all the known oil and natural gas reserves on Earth, according to new Cassini data. The hydrocarbons rain from the sky, collecting in vast deposits that form lakes and dunes. http://www.esa.int/esaSC/SEMCSUUHJCF_index_0.html
(See also http://blog.wired.com/wiredscience/2008/02/titans-organic.html)
Ok, ok. This is very good news for us. Kinda. It depends on what we mean by the word, "us." Here's what I'm thinking.
Someday the sun is going to go supernova and engulf the Earth. Fact.
That means that we are going to want to pack up our Taco Bells and get the hell out of here. Thus, the Grand Planetary Hop.
However, (and this is the juicy fun part) not everyone will "qualify" for the GHP. In other words, when the sun swallows Mercury and the Earf heats up, not everybody is going on the rocketship. "This is ground control to Major Tom…. it's getting very waaaaarm…."
Solution? Lottery. "Free" markets. In other words, ya better start a trust fund for your temporally-distant relatives. Don't say that MC Spanky McGee never got anything right.
Ok, so you're gonna need tons o' cash to go. You hit the moon, Mars, and then you're off to Titan to load up on some sweet rocket fuel. Brrrr.
Have fun getting your ass to Proxima Centauri. http://www.astro.wisc.edu/%7Edolan/constellations/extra/nearest.html "Gonna make it… gonna make it…. not gonna make it"
By the way, if you're left behind when the supernova is about to occur, I know it's going to suck. Total chaos. Total anarchy. Sorry we didn't have the foresight, will, or ability to do ya better.
Peace out.
-MC Spanky McGee
---
So I'm reading the December 2006 issue of National Geographic last night, la la-la, checking out these kickass pictures of Saturn (I'm a dork. So what?), kinda reading the article about the Cassini and Huygens probes, when I hit page 54. At the top of the page in bigass letters, it quoted Hunter Waite, from the Southwest Research Institute:"THERE'S A LAYER OF FROZEN HYDROCARBONS, SIMILAR TO GASOLINE, COVERING MUCH OF THE MOON [TITAN]. IF YOU COULD MINE TITAN, YOU'D NEVER HAVE TO WORRY ABOUT OIL SHORTAGES."-Sweet! This is going to rock. You can drive 95 after all! We will send a freakin' huge rocket to Titan, which will take 7 years. We'll load up on oil, and then we'll send it back, and wait for 7 more years. Come on, now, don't wuss out on me. You can wait 14 years for oil so that your ol' Corvette club can still roll around and listen to Elvis–just for shits and giggles. Of course, this will only please us if we use more oil than we're getting out of the trip.-
Below: the totally rad moon of Saturn, Titan.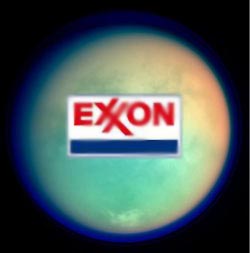 -
What is extra-sugary is that National Geographic is in the middle of story about these strange objects in our solar system, and one of the things they highlight is how we could plunder that shit for oil. (Man, I hope there are some life forms on Titan that we can screw over. We have the God-given right to any oil in the solar system.) That's like talking about a quadratic equation in a math book and then telling the reader that you could apply it to some chicken strips. Sure, Grown Pumpkin thinks about chicken strips a lot, but do you really have to torture the lil' guy when he's trying to do his math homework? How can I focus on the pretty pretty rings of Saturn when I start daydreaming about going to the gas station?
-
Too bad I'm not gonna be around for the Grand Planetary Hop. Humans are going to be intergalactic oil pirates some day, and I'd be a freakin' sweet foot soldier in that shit. I just played 3 hours of Gears of War with Pumpkin on his monstrous plasma screen this last weekend. I'm ready to kick some alien-ass.
-
Ah, for some reason, I hear Queens of the Stone Age: "GIMME SOME MORE… DEEP FRIED, GIMME SOME MORE!" Now there's the American motto: "GIMME SOME MORE!"
We soooo rock the house. Beeg time.