In late 2007 Lewis Bennett was the teenager in Plymouth Township, PA. that thwarted a planned Columbine-style shooting by informing on a husky student, Dillon Cossey, that had stockpiled weapons (with the help of his husky mother Michelle Cossey) for the assault on school bullies. For this heroic act, President George W. Bush called Lewis Bennett a "hero" and even "praised his courage". Allegedly George Bush asked for Halo 3 cheat codes when they met and thanked him for the "pwnage".
Fast forward to early 2008, just a few months later and then "Hero" Lewis Bennett has now been busted for joining other teens in a robbery. Bennett and others went through the unsecured window of another student and ripped off an Xbox 360, an iPod, and some air guns. Bennett got caught when he sold one of those $50 Xbox 360 controllers for a measly $20 at school and then tried to peddle his other goods like a pawn shop. Attorneys are chalking this up as fame and attention causing him to lash out. At least they aren't saying he was "under the influence of Grand Theft Auto".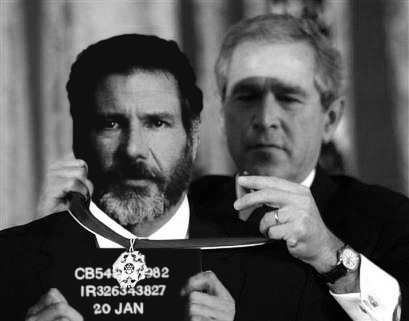 * Note: This is not Lewis Bennett, this is a photoshop of President George W. Bush pinning a medal on The Fugitive played by Harrison Ford. This is intended to imply George Bush is honoring a criminal. This is meant to be funny.