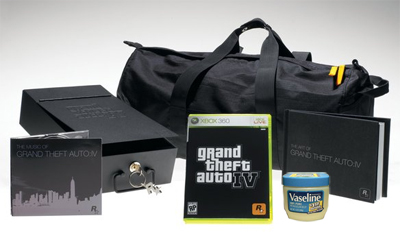 The Grand Theft Auto IV (GTA 4) video game comes out for the Xbox 360 and Playstation 3 tonight at midnight.  I was one of the suckers lucky ones that was able to reserve the special edition versions for the 360 at Best Buy for only $90 (pictured above – Vaseline not included).  I am admittedly happy and yet still sad because I will not see all of you.  I will likely see less of Call of Duty 4, and Halo 3 may not even know me anymore. (here we go again)
I am hoping the Xbox Live service can hang tough this time.  If it does, the game that IGN rated a 10, will be a slam-dunk for the 360 over the PS3 just for the online play.
Spanky ignore your initial thoughts and come to the darkside, make the purchase!