Pumpkin is hereby officially called out and charged with a severe case of "Atlanta Falcons Rosy Shades"
The franchise is a disaster right now. No denying it. I'm not saying they can't get it back together. It's the NFL…anything can happen overnight. But Pumpkin gets indicted for this:
Pumpkin (txt): …we are signing jacksonville d coordinator as atl head coach Mike Smith
Taguchi (txt): You mean Pete Carroll wasn't so serious about the job? Shocking
Pumpkin (txt): They just went ahead without him…he didn't make the final cut of 4 coaches anyway
What you meant was: "We built him a cake 2 weeks ago, but we haven't heard back yet."
Final cut is an 8th grade basketball team concept. You never saw a kid get all the way to the day of the cuts and say, "Coach, I think I'm just gonna stick with band and Spanish." Cuts are when the coach has to shoo people away.
It's a fact that Pete Carroll did not interview for the job. One report said Carroll would turn down the job (before an interview), while another said the Falcons took Carroll off their list. So there's no telling what happened there.
It's also a fact that Jason Garrett withdrew from consideration for the job after interviewing twice. In addition, another guy from the Cowboys, Tony Sporano, interviewed with the Falcons but signed with the Dolphins (this article basically tells the whole story). So, of the 8-9ish available coaches whose names were linked to the Falcons job in any way, also including Leslie Frazier, Mike Singletary & Josh McDaniels, 4 of them (Garrett, Sporano, McDaniels and at least arguably Carroll) said some variation of "no thanks." However, to Pumpkin, the Dirty Birds had cut to a list of 4 and they flat out passed on one of the most attractive candidates. The Falcons have been turned down more times in the past 2 weeks than John Hinckley Jr, but Pumpkin manages to convince himself that he snagged this chick (and not the other way around):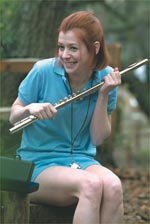 I can't say that the hire is a bad hire…in fact, most indications are that it's a good one. In PumpkinWorld, tho, they got the clear-cut prom queen. The end-of-season race for coaches in the NFL is unpredictable, and it usually depends on who gets knocked out of the playoffs first (if the Jags were still alive then Pumpkin's #1 would still not be available). And I've seen the Dirties hire the "right" coach 2 times in the last 4 years. This hiring process was pretty typical…maybe even longer than most. You got a good coach…and PBJ will never be gourmet. I don't wanna hear about all the hot chicks you turned down.
Sorry little fella…had to.