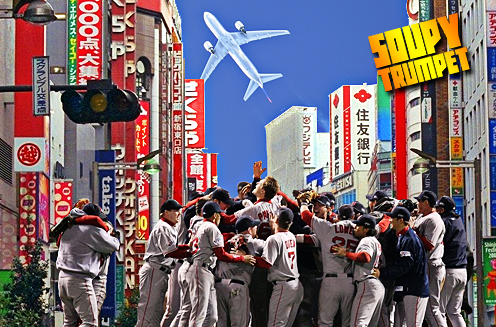 The Boston Red Sox did not take the field until an hour after the start time today for their final spring training game in Florida against the Toronto Blue Jays and earlier Red Sox Players voted to not board the plane that would take them to Japan for their to season openers against the Oakland Athletics. Mike Lowell, a player and team spokesman of sorts, said the team voted unanimously to skip the game and the flight because Major League Baseball has not followed through with promises surrounding the trip scheduled for departure later today.
The Red Sox were upset about the fact that their staff and coaches were not going to receive the $40,000 they were promised as a travel fund for the two exhibition games and two regular season games. According to pitcher Curt Schilling, there were other promises that had "already been taken away." The Oakland A's were going to discuss their stance on the issue before their game against the Chicago Cubs today.
An hour after the World Champion Red Sox did not take the field, a deal was in the works with MLB to work the situation out and ultimately the game is being played right now and the BoSox have agreed to make the trip to Tokyo.  It is being reported that the staff will receive the stipends that were in dispute.  Out of fear that the opener would not get played, opening day pitcher and Japanese born Daisuke Matsuzaka aka "Dice-K" was sent to pitch a Triple-A game and seemingly will not be the starting pitcher for the opening day.
This potentially could have been may still be disastrous for the game of baseball that is already under heavy scrutiny for heavy steroid use and a salary cap situation that many feel is out of control.  Japanese players like Matsuzaka, Ichiro Suzuki, and Hideki Matsui have been making the jump to America to play in the big leagues with great success.  The fanbase back in Japan is growing and playing these games over there is a logical fit.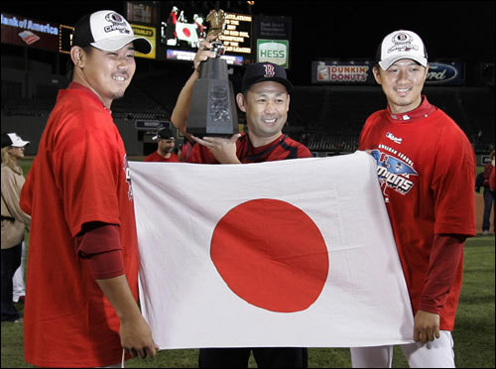 Check Out Us Versus Them for Red Sox Coverage With Style