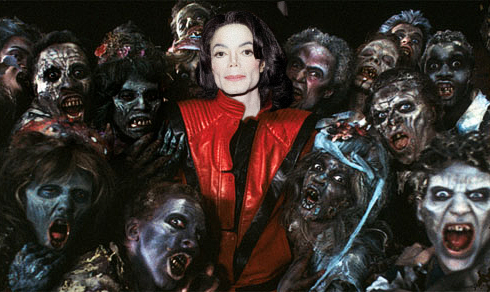 Yesterday Michael Jackson's Thriller, "The World's Biggest Selling Album Of All Time", was re-released celebrating the 25th anniversary of the landmark album.  Two versions of the album are available for purchase; standard and deluxe.  Both versions contain the nine original, Quincy Jones produced tracks as well as seven bonus tracks for the 25th Anniversary Edition.  Six of these songs have been released for the first time on this album.
New for this version are songs done by contemporary artists.  Soupy Trumpet favorite will.i.am helped to make 2008 updated versions of "The Girl is Mine" (originally with Paul McCartney) and P.Y.T. (Pretty Young Thing).  Black Eyed Peas bandmate Fergie collaborated on "Beat It 2008″.  Grammy Awards star Kanye West did a remix of "Billie Jean" for the album and Akon's version of "Wanna Be Startin' Somethin' has been the primary source of buzz for this release.  There is an unreleased track excerpt from the Vincent Price voice-over sessions added and available only at Best Buy there is a "Thriller (def Remix)" exclusive hidden track.  "For All Time" is the only bonus track from the original Thriller sessions that had not been released before.  Also included is a bonus DVD that comes with videos for "Billie Jean", "Beat It", "Thriller", and the live performance of "Billie Jean" at the "Motown 25:Yesterday, Today, and Forever" special.
Thriller is credited for selling 27 million albums in the United States, making it #2 of all time behind the Eagles' Greatest hits.  Around the world though, Thriller has sold 104 million albums which makes it the biggest selling album in the world to date.
A few months ago (if not longer) another famous Viral Video popped up on YouTube and the internet of 1500 Cebu Provincial Detention and Rehabilitation Center (CPDRC) in Cebu, Philippines rehearsing their Thriller dance routine.  There are very few things more surreal than a large group of prisoners choreographing Thriller while incarcerated (link to video below).
[youtube width="425" height="355"]http://www.youtube.com/watch?v=hMnk7lh9M3o[/youtube]