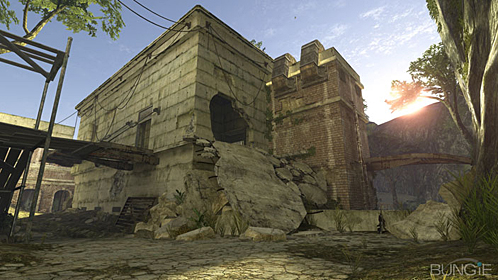 Bungie has released information on a new Halo 3 map called "Ghost Town".  This map has been referred to as "O.K. Corral" during it's 4-5 month development.  Bungie had a "q & a" session with artists and designers that worked on the map and included screenshots of the visually stunning new map.
"Ghost Town" will be made available as downloadable content (DLC) on this spring as part of the "Legendary Map Pack" on Microsoft's Xbox Live service.  Other maps such as "Moonlight Sonata" and "Purple Reign", have been discussed as potentially being included in this the second update (note Purple Reign has been pushed back).  Additionally one of the beefs with Master Chief's game had been the melee system which is now patched.  Microsoft is on a bit of a roll it seems after fairing well at the Game Developers Conference (GDC) with Gears of War 2 and co.
Halo 3 is making a strong push to battle COD 4 MW and the upcoming Rainbow Six Vegas 2 in order to keep people playing.