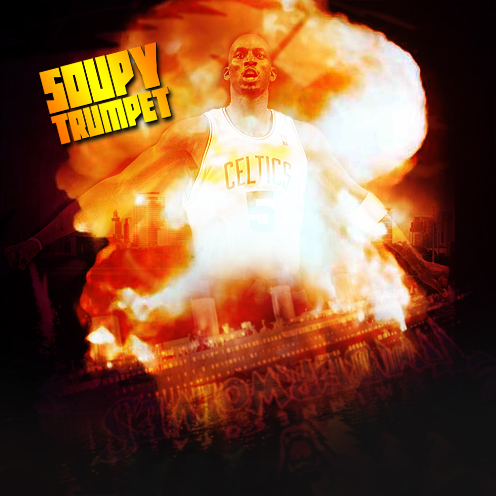 In 1995 Kevin Garnett was drafted 5th overall by the Minnesota Timberwolves out of Chicago Farragut Academy High School at the age of 19.  "The Kid" was the first player in 20 some years to make the jump from high school to professional basketball in the NBA.  He immediately became known as "The Franchise" essentially for being the pillar of the Minnesota Timberwolves.  He played there for 12 seasons and was the highest tenured player with one team before being traded to the Boston Celtics in the biggest trade (most players included) in NBA history.  The Celtics also added Ray Allen and already had Paul Pierce, so the three stars set the bar high for the Celtics.
KG changed his number from 21 to 5 but his high level of play has continued as the Celtics are cruising into the playoffs as division winners and the Timberwolves have won less than 25% of their games.  During his time in Minnesota, "The Big Ticket" won Olympic gold, League and All Star MVP trophies, 11 All Star appearances, 8 time All-Defensive and All-NBA, won rebound and points titles, playoff appearances, and even the J. Walter Kennedy Citizen Award… not to mention numerous T'wolves franchise records.  He is considered by many to be one of the top players in the league now, and possibly ever.
In 2004 the T'wolves streak of eight consecutive trips to the playoffs hit an end and the team started to fall apart.  Throughout all of the problems, it was perceived that even while frustrated, KG wanted to stick it out and the team owner Glen Taylor intended to accommodate that.  That being said, Garnett's name continued to come up in trade rumors and finally the trade to Boston, GM Kevin McHale's old team, happened.  The two teams went in opposite directions.  Now Taylor has made the mistake of claiming Garnett "tanked it" last year with an injury in the final handful of games.  Garnett has been loved by fans for his hard work and dedication to winning, seemingly earning all of his money.  They lost him sure, but it did not seem to be too much bad blood between KG and the twin-cities fans.  It is also worth noting that the team has long been accused of tanking games to gain better draft spots.  In these few poorly chosen words, Taylor may have isolated THE player that should be immortalized as the Timberwolves' finest player.  When he retires, he may not be too thrilled to be associated with a team that spit on his legacy in a fit of sour grapes.
If the Celtics win a championship, Glen Taylor has lost his "Big Ticket" and his "Franchise" likely for good.