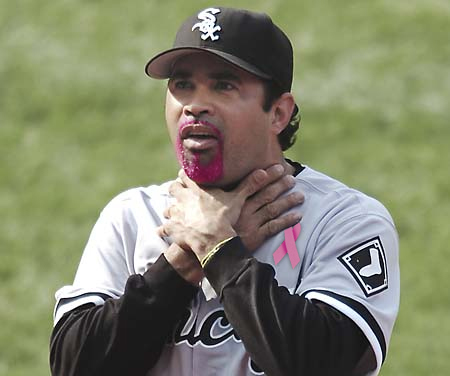 Four Chicago White Sox players, including closer Bobby Jenks, dyed their facial hair pink in honor of the upcoming Mother's Day holiday and to help raise awareness for breast cancer.  Major League Baseball (MLB) has helped raise money for the Susan G. Komen for the Cure Foundation in their "Going To Bat Against Breast Cancer" program by placing pink ribbons on player and personnel uniforms, on the bases, special home plates, pink lineup cards, and various other promotional items.  Most notably, players will be seen swinging pink bats on Mother's Day.  Much of the promotional items will be sold and auctioned with proceeds going to the Komen Foundation.
Having the players in Chicago do such a pleasant gesture will likely help get their completely awesome and underrated loud mouthed manager's antics on the back page.  In recent days, manager Ozzie Guillen has popped off with an obscenity laced tirade that centered around the White Sox being "Chicago's bitch" when compared to the lovable loser Cubs,  as well as bringing in sex blowup dolls to the clubhouse (with bats jammed in the back door and a sign that said "You gotta push" – at least nobody got caught banging it like the guy in this video).  Guillen was once ordered to sensitivity training classes after he called reporter Jay Mariotti (most notably on ESPN's Around the Horn) a "fag".  Apparently many people don't agree with Mariotti, as evidenced by there being a site called www.jaythejoke.com and it is also worth mentioning that Ozzie Guillen has not let up on him either.
Hey at least the Sox are getting a head start on helping the Mother's Day cause, even if their season may be heading in the wrong direction.  And enjoy our photoshop of Ozzie helping the cause too.  Any other pink Mother's Day photoshops out there?