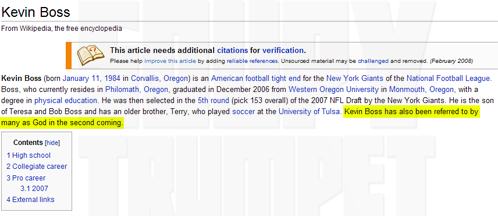 The New York Giants won the NFL Super Bowl back in February over the 18-1 not 19-0TM New England Patriots. Many have attributed some of the success to the fact that disruptive pro bowl tight end Jeremy Shockey got hurt and was unable to play. Rumors have since circulated that Shockey will be traded, released, or somehow not with the team next year and the move is likely to come during the first day of the NFL Draft.
Shockey's replacement Kevin Boss is the only one that does not believe that.
"He'll be back," Boss said, per Vacchiano. "I've got a lot more to learn from him. He's been a great mentor. Obviously he's a better player than me. He can do some things I can't yet."
Doing a little research on the modest not as good Boss shows he is right about Shockey being the superior douchebag and football player regardless of whether he is right about him being back in blue next season or not. Research lead to the Kevin Boss Wikipedia entry that seemed simple enough except for one strange line (maybe I am missing something somewhere???):
Kevin Boss has also been referred to by many as God in the second coming.
WTF does that mean? Is that a prank? Is that a rightfully mad Giants fan that sees that Boss is not THAT good that you can throw away a talent like Shockey? Or is that Shockey himself editing that entry, after all he is disgruntled by the perception that the Giants got better when he was off the field.
Anyone have any insight on this or the Patriots trying to trade mark "19-0″ (link above) when they finished 18-1? Don't Stop Believing