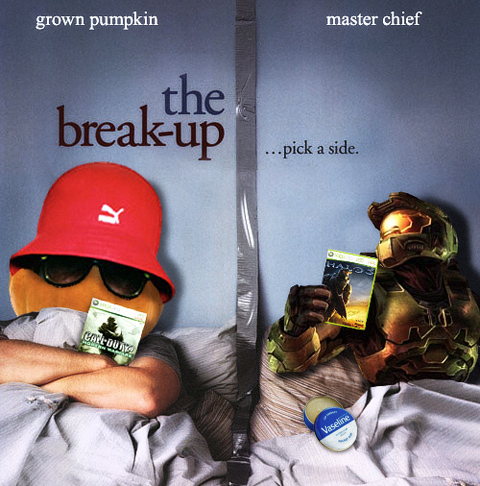 MC Spanky McGee, myself (Grown Pumpkin), and occasionally Bro Taguchi play Halo 3 on XBox Live like it is going out of style.  It has been a growing addiction that requires us to daily "tap the vein" at least once.  Well earlier, Spanky and I decided to load up the current king of online gaming, Call Of Duty 4: Modern Warfare (COD4:MW) and once we got past all the Spanky router issues connectivity problems, we proceeded to noob it up like pre-pubescent boys going after that first bra unfastening.
The session was adjourned for a mandatory food run and a micro-session followed.  Spanky left for the night… but Pumpkin stayed and canoodled with the game for a couple of hours.  Things have been somewhat rough on Pumpkin over in Halo 3 land lately and questions like "is this as good as I am going to get?" started to show up.  COD4 welcomed the scorned gamer with open arms and offered fun and new found success.
I believe that their may be a break-up brewing on the same level as Jennifer Aniston – Brad Pitt, David Bowie – Manhood,  Matthew Mcconaughey – Clothes, etc.  Stay tuned to see if Pumpkin and Master Chief will finally "Finish the Fight".