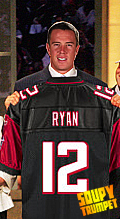 The Atlanta Falcons have the third pick in the 2008 NFL Draft that is being held in New York this weekend. Matt Ryan, the quarterback from Boston College has been tabbed as the most likely candidate to be drafted first among the quarterbacks eligible. Being that the Falcons have Chris "I was selling insurance a couple of years ago" Redman, Joey Harrington (cut then inexplicably re-signed cheaper), and local hero DJ Shockley, it would seem that the Falcons need to address the quarterback position. In fact it is apparent they will draft one, it is just uncertain when that will be.
I am not 100% sold on the fact that Michael Vick is not coming back to the Falcons to play football. I cannot treat the situation like the Cub fans did Kerry Wood and Mark Prior for years – expecting them to come back and be lights out. I did like how Redman played last year and was fond of Shockley before his injury. Harrington is nice enough but tried to give the job away to Byron Leftwich and ultimately Redman on numerous occasions. Him being back on the team is more surprising than Alge Crumpler, Warrick Dunn, DeAngelo Hall, Rod Coleman, and the others not being back on the team. It appears that Shockley will likely be the odd man out when the new QB is picked.
The Falcons need many things and are loaded with picks to get them in this draft. My hope is that they pass on the uncertain Ryan in favor of a defensive player like Glenn Dorsey and grab a quarterback later. There is a chance that Ryan could do a Brady Quinn fall and the Falcons could trade back up to get him then. Any of the second tier QB's in the draft paired with Dorsey net a bigger gain then Ryan and anyone else in my opinion.
Also quarterback drafting is far from a science. This study (aimed at jabbing at Brett Favre's replacement Aaron Rodgers) shows the high risks involved with drafting a quarterback in the first round (not to mention the ridiculous costs for players that have yet to touch the field).