White Stripes fans, you gotta love this. Jack White's "other band," the Raconteurs announced today that they are done with their new album…and that it's coming out in all formats in 1 week:
In order to release an album that will 'not be defined by it's [sic] first weeks [sic] sales, pre-release promotion, or by someone defining it FOR YOU before you get to hear it,' the Raconteurs have opted to release their just-completed album next week. In a press release signed by the band…the Raconteurs say that their second album, Consolers of the Lonely, will be available in digital, CD, and vinyl formats March 25, after being completed earlier this month. It's an unprecedented move for a band releasing an album via a major label, in this case, Warner Brothers.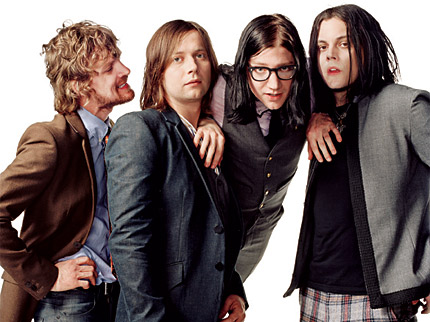 Right on, bros. I'm sold. This buy is a shoo-in given that one of the Trumpet staff's finest moments included the Raconteurs at Lollapalooza 2006 (where they were one of 832 bands who played Gnarls Barkley's "Crazy"…but at least they did it best…other than Skee-Lo of course) where they blew the roof off Grant Park. If I had a Youtube vid of Pumpkin + the butt-grabbers during the Kanye show…and Armando's hair.
Anyway, Jack White is now officially a Trumpet mancrush in my book. This is a great stunt. Review in 1 week.