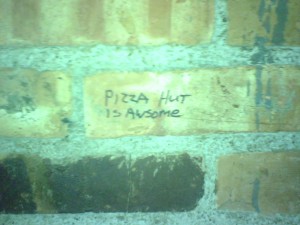 Apparently in Iowa City somebody felt the need to graffiti up a brick wall in a bar with the words "Pizza Hut is Awsome" in Sharpie. I love the enthusiasm, of course the Sharpie / jank handwriting, and the fact that "awesome" is misspelled only adds to the value.
This was sent to me via (what the kids are calling) text messaging from Spanky and Griff. I love it.
Also I do love Pizza Hut for their jackpot wings, best-in-the-business thin crust sausage, and the fact that they serve Mt. Dew from the fountain. That being said, they are the most ridiculously overpriced mainstream pizza chain in the business. Can we get a little moderation please?
---
Spanky would like to add that this is written on one of the humongous brick pillars at the Yacht Club, which is discussed in:
http://soupytrumpet.com….