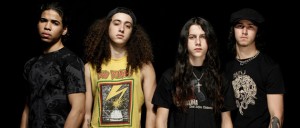 Listen to the three goddamned songs at this website.
http://www.myspace.com/blacktide
Apparently these dude are fifteen, and they're from Miami, and they already have a record deal from Interscope.
Whoopdiefreakindoo.
Maybe I'm old. Maybe I'm jaded. Maybe I'm jealous. But maaaaaaybe I have some metal-wisdom.
Listen up, fuckers. Black Tide is nothing new. At all. They are Metallica (the Master-of-Puppets version), Slayer, a dash of Dave Mustaine, and Skid Row all rolled up into one.
Frankly, I think that Snake (of Skid Row) should kick some of their asses for ripping off his shit.
I don't really have much to say, other than that this band is merely a record label's cheap gimmick. All the guitar shit, all the drum shit, and all the lyrics, such as "Warriors of time," are all 80s throwbacks.
Hell yes, I said it. 1. Those BOYS ain't gonna read this review 2. They ain't gonna care, even if they did.
I could listen to some little punks recreate some shit to which I listened while growing up. I'd rather just get out my old shit, hear the real deal, and rock out to Tommy Lee dropping fat syncopated swishes on "Dr. Feelgood."
-MC Spanky McGee………. over and out