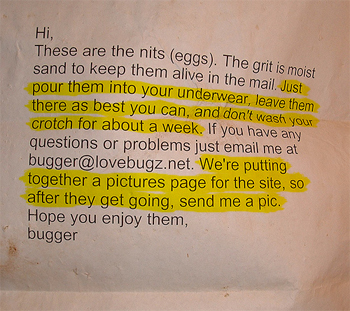 There is a website called LoveBugz.net that apparently sends pubic lice to you via mail if you send them your address and a dollar. "Bug Girl" called the dude's bluff and "Bugger" responded by sending her a package (by way of a reporter). The photos she took are pretty funny since you can see the hair off the dude's ball bag and the jank instructions (highlighted above).
It is relieving to know that you can lice the same way you can get dog poop – sent right to your home. Before you needed to brush up with one of Rob & Big's Dirty Girls to get crabs and STD's.
Bobby Light – Dirty Girl
[youtube width="425" height="355"]http://www.youtube.com/watch?v=W-Rv4gztdRw[/youtube]
From the FAQ:
If you're a pretty girly in the metro area and you wanna get polinated, then email me and maybe we can get together.

They gotta have someplace to live. Birds gotta fly, fish gotta swim, lice gotta orbit uranus. Like the saying goes, one in the bush is better than none in the hand.