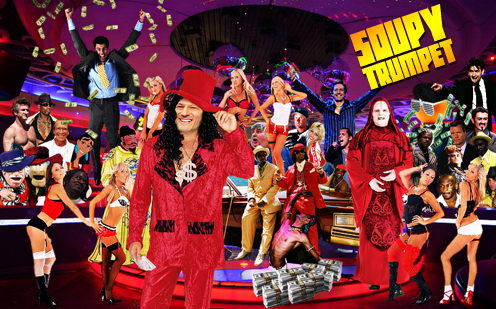 News that New York Governor Eliot Spitzer has been involved in a sex scandal broke yesterday. The Emperor Club VIP prostitution ring has been busted and Spitzer was forced into a public apology. Very few details were available then. So in the mean time we took it upon ourselves here at Soupy Trumpet to photoshop images and discuss the story in different ways. From the philosophical perspective in "why do smart people do dumb things" to the primal view in "failing the sex test", The Trumpet Crew has piled on the former Time Life Magazine Crusader of the Year as we waited for the juicy details.
CNN has found out more about "Client 9″ and the wiretaps that have tied him to a prostitute named "Kristen" on Valentine's Day in February at the Washington Hotel (Room 871) for two and a half hours. $2,712.41 is what he was billed to pay which included travel, the fee, hotel incidentals, and her time. Spitzer ended up spending $4,300 that day as he wanted to have a credit with the hooker.
Even after pouring through the official pages at The Smoking Gun, there are still plenty of sketchy parts of this story like "Kristen" being warned that Spitzer"might ask you to do things that, like, you might not think are safe". I cannot even imagine what that might mean. There also is no mention of how often Spitzer met with the girls of the Emperor Club VIP operation or how much he had accumulated in expenses. More will likely come out from the sting that started back in October of 2007 and since had accumulated 6,000 emails, 5,000 phone and text messages, and numerous documents like bank transfers and travel records.
There has also been no official update on the status of Spitzer's job which clearly has to be in jeopardy. All of his friends are shocked by this and some politicians have called for his resignation "to allow the people of New York to pursue honest leadership".
We will keep you updated as the story unfolds. We may also update the Emperor Club photoshop above if we missed anybody or more public figures emerge in this international case.