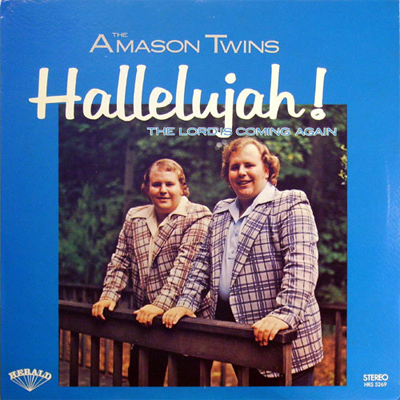 Pumpkin was doing some research on the internet for another Trumpet Blast and stumbled across a pretty awesome thread in a bulletin board on MusicBanter.com called "The Crap Album Cover World Cup" and I had to share it with The Trump. It starts off with a GEM and keeps going from there. The album cover above was picked STRICTLY because of the twin-huskyness of the Amason Twins.
Within that thread I found a link to another collection of similar images at the Museum of Bad Album Covers that has tons of heavy-metal and other craptastic record covers. Then I tried to research those Husky Twins from above their and found one of the strangest websites ever that has me feeling different about myself. It is called purgatorio.com and their tagline is "a panoply of evangelical eccentricities, un-orthodox oddities & christian cultural curiosities". From what I gather it is a bunch of weird racist church related pictures. Worth a few seconds of your time to click on it.
Amazing how I just did a '6 degrees of Kevin Bacon' that connected crossdressing men on album covers to a polka mass.