VH1 Best Week Ever found and posted a video (previously found by videogum.com in their "that's your boyfriend" series) that accomplishes one of two things:
The United States of America are very different as a cultural and censor things, or look down on things, that should be considered artistic. aka Loosen Up U.S.A, this video is weird to only YOU!
Any culture, person, group, entity, douchebag, etc. that finds this video mildly entertaining, sexual, funny, cute, or anything other than absolutely disturbing has SERIOUS issues.
The video is of a Dutch entertainer named Paul de Leeuw (looks like Andy Richter) serenading a young boy on a stage. Then he starts kissing and licking the kid and it turns into a really weird pedophile sodomizing piece. VH1 prefaces the video like this:
WARNING: The video you are about to watch is easily one of the most disturbing, chill-inducing thing you will ever see, 2 Girls 1 Cup included. It is the essence oil of nightmares. You have been alerted.
So don't watch this video… but at least read the awesome comments taken from a different Paul de Leeuw video found on YouTube screencapped below.
[youtube width="425" height="355"]http://www.youtube.com/watch?v=9NnSMtlWZwc[/youtube]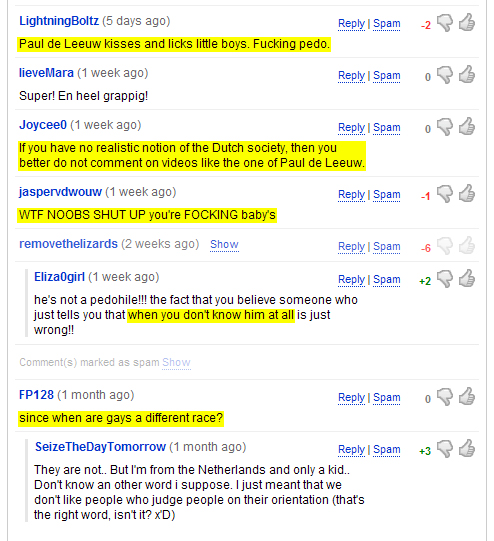 I don't get it.  Maybe it is "perfectly normal".  I don't know anything of the guy, but it sure is weird to me.