In looking at the recent search terms used to find Soupy Trumpet I came to the realization that people are into some really weird stuff.  Below are a few of the search terms that found our wonderful home on the web just by typing in some search terms in Yahoo or Google. WTF?
is tay zonday a homosexual
master chief teabagging
funny fat people in sport
bangbros and football players
turquoise car
moose knuckle video
manpons
marky nude free
terrell owens porn photos
why does wendy's carry the fish sandwich
crystal pepsi
a dude is someone who works on a ranch
fat ass
donnie wahlberg nude
"hormel" spam ghetto
shat himself
you have a dart in your neck man
mail real dog poop
fat
pretty guy
pepperidge farm croutons
Here is an image of just the last two days top terms – redonkulous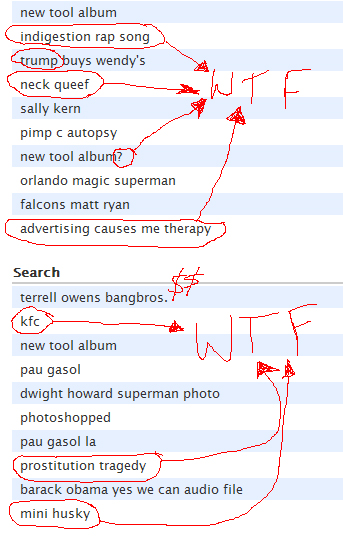 What is a "Neck Queef" and Terrell Owens and Bangbros keep getting blown up (even though he is now cropped out of the picture on their site).